Price: €20,00 – student €10,00
Mio Chareteau – The Field Drum Suite (for four snare drums)
Mark Barden – 5 Monoliths (for percussion quartet and electronics)
Mio Chareteau – Play (for four cassette players)
Ryoji Ikeda – Metal Music I (for 2 triangles)
Ryoji Ikeda – Metal Music III (for cymbal quartet)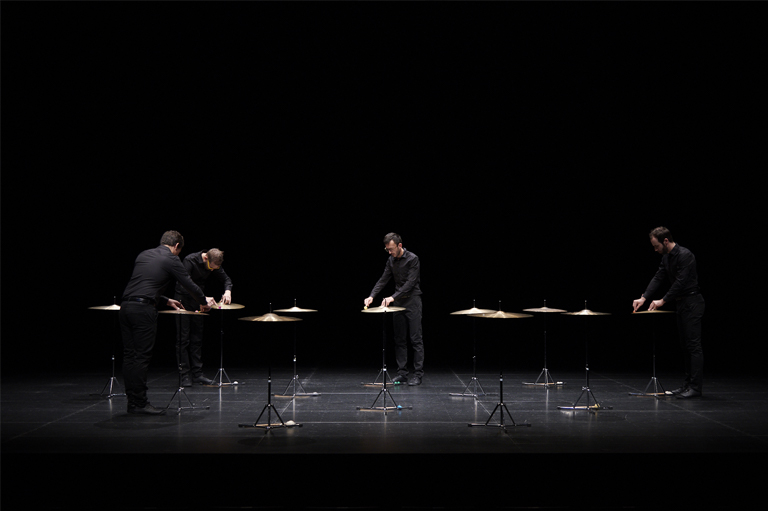 CONCERT AFGELAST
Tot onze spijt kan het concert van slagwerkgroep Eklekto op 8 december in Het Cenakel niet doorgaan. Dit in verband met de quarantaine verplichting van de Nederlandse overheid voor reizigers uit landen waar code oranje geldt.
The Swiss percussion collective Eklekto has a pleasantly broad view of the possibilities of their instruments. They can use cassette tapes as sound source, or highlight timbres and spatial acoustics with four field drums. Ryoji Ikeda, well-known for his minimalist electronic music, wrote pieces for metal instruments. Eklekto's concerts are also intended as a spectacle.
The Swiss percussion collective Eklekto extends the boundaries of what is usually regarded as percussion, by working with unconventional composers and materials. They will perform The Field Drum Suite and Play by Mio Chareteau, who is best know as a performance artist. In the first piece they will play drums with marker pens, gradually colouring the skins black. The sound sources in Play consist of cassette tapes. The musicians control the sound by moving around. Monoliths I-V is based on the noisy chirping of crickets that composer Mark Barden heard in the Pennsylvania countryside. He transformed this living sound field into a dense, continouos ground layer in which myriads of details can be discerned. Ryoji Ikeda, a Japanese composer who works with raw electronic sounds through which he traces the outer limits of the audible, wrote Metal Music for Eklekto. From this series of pieces for metal percussion the musicians will perform two parts, Metal Music 1 for two triangles and Metal Music III for four cymbals.