Sarah Saviet & Joseph Houston
Price: €15,00 – student €5,00
Mississippi Hornpipes (1982) – Michael Finnissy
for mira (2012) – Cassandra Miller
Études 1-3 (2016) – Mark Barden
Duo (1996, rev. 1998) – Rebecca Saunders
Inner (2009) – Ann Cleare
Dikthas (1979) – Iannis Xenakis
Spring of Chosroes (1977) – Morton Feldman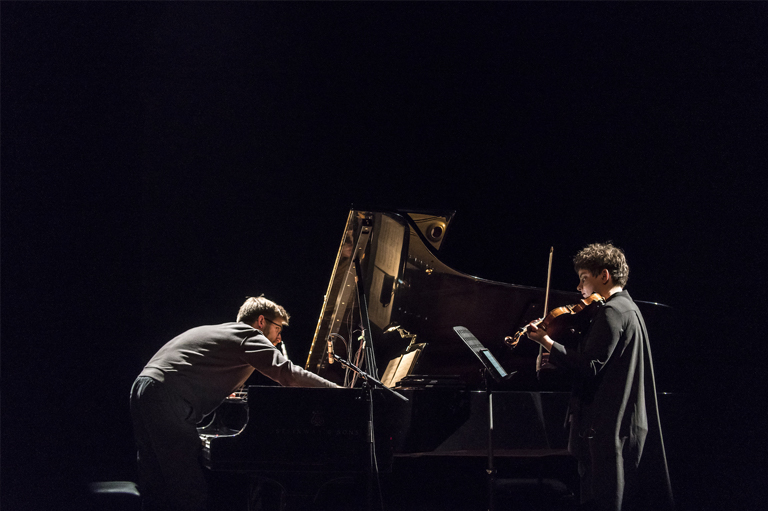 Violinist Sarah Saviet and pianist Joseph Houston focus on sound worlds and ways in which composers may construct them. Anna Cleare toys with contrasting timbres. Morton Feldman drew inspiration from a royal tapestry lost in history. Cassandra Miller and Michael Finnisy make snippets of music grow into full-blown compositions.
In violinist Sarah Saviet and pianist Joseph Houston De Link has invited a duo that is well at home in contemporary music. The concert takes its name after Ann Cleare's composition Inner, in which she toys with contrasts between sound worlds that lie hidden in the core of the two instruments and raw sounds that temporarily push these inner worlds aside.
Three other compositions in this concert are explorations of sound and ways in which it can be produced, approached from sharply differing perspectives. Yannis Xenakis worked with mathematical processes to order sound materials. In a number of compositions Morton Feldman was inspired by oriental carpets, in this particular case a monumental carpet that had been made with gold and jewels for a Persian king in the sixth century, but was lost long ago. The remaining three works in this concert are all based on fragments of existing music. In Mississippi Hornpipes Michael Finnissy has arranged snatches of American folkdance tunes bounce back and forth between the piano and the violin. In for mira Cassandra Miller drastically moulds a snippet from a Kurt Cobain song into a new piece, while Mark Barden scatters the notes from part of Bach's Partita in c-mineur all over the keyboard of the piano.