Tickets & discount
Make use of our campaigns: a subscription to our concert series in Het Cenakel, combiticket for international top concerts, student discount, We Are Public and Meedoenregeling.
Stay informed
Would you like to receive our news letter and brochure with an overview of all our concerts?
De Link is a concert organisation for newly composed music in Tilburg, led by composers, musicions and fans.
We do this on different locations, with present-day productions from home and abroad, from our own initiative or in collaborations.
Daar zijn we het mee eens. Een mooi portret over De Link in De Volkskrant, geschreven door Guido van Oorschot. Over de organisatie, onze ambities en de vruchtbare voedingsbodem voor nieuwe muziek in Tilburg.
read more >>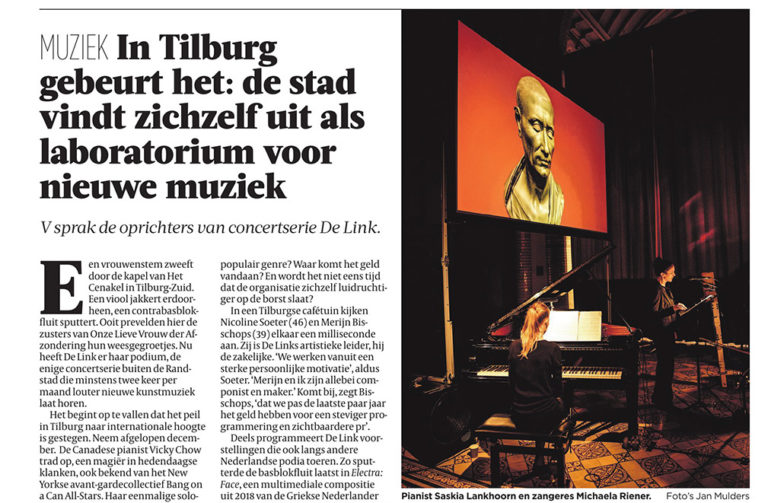 De Link, ran by composers, has a strong program, with this season top ensembles like the German Musikfabrik and the Belgian Spectra.
De Link the venue for contemporary music in Tilburg, exists for decades, but more recently looks further across the borders than in the past.
All honour to the team of De Link that they arranged for Chow to come over from New York for this special recital.
Initiative for new and renewing music De Link has pinned down a very special guest for their last concert of this year...
... indispensable concert series in the south of the land.
... a stable value within the performance practice of contemporary composed music.
...broad-minded and enterprising concert organisation from Tilburg...