Price: €18,00 | student €8,00
The Evergreen – Caroline Shaw
Plan & Elevation – Caroline Shaw
Limestone and Felt – Caroline Shaw
Four into twenty – Garth Knox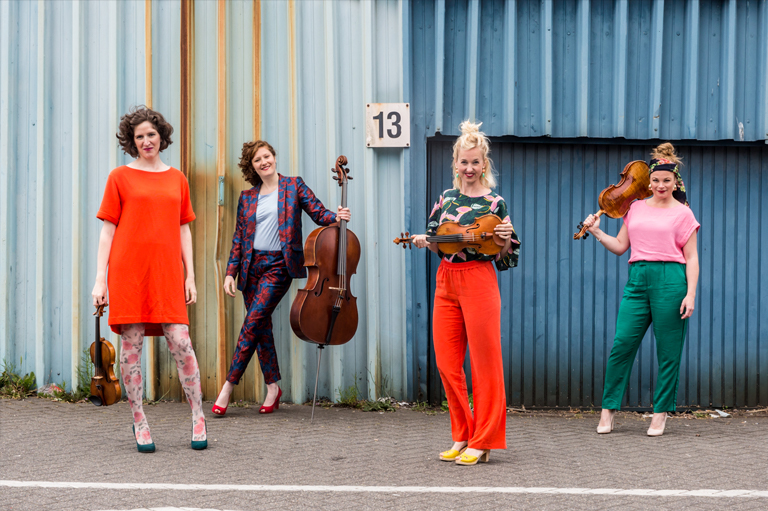 The Ragazze Quartet will perform works from two composers. They have included three works by Carline Shaw, who won the Pulitzer Prize for music in 2013, in the programme. One of these, The Evergreen, was commissioned by Ragazze. Violist Garth Know, always searching for extremes in string instruments, wrote Four into twenty for them.
Caroline Shaw is represented with three works in this concert. These pieces show a special affinity she has with places she has visited or envisaged. The Evergreen is dedicated to an awe-inspiring tree standing craggy and warped, and covered in the soft greens of moss, in a clearing in an evergreen forest on Galiano Island in the far southwest of Canada. Plan & Elevation follows a walk over the grounds of Dumbarton Oaks, with its lush gardens. In Limestone & Felt she contrasts the interior of a medieval chapel with the linings of a jewellery box.
Garth Knox, former violist of the Arditti Quartet, is increasingly active as a composer. He wrote Violin Spaces for (and with) violinist Diamanda La Berge Dramm, in which he incorporated extended techniques as well as folk repertoire. These elements can also be heard in the five movement Four into twenty, a reference to the quartet and the present decade. In this piece he heralds the music of the future.