Price: €20,00 – student €10,00
to live in static (2019) – Cassie Wieland
Uneasy (2020) – Ken Thomson

(pauze)

to…serenity* (2022) – Aftab Darvishi
Adjust (2022) – Anna Webber

*wereldpremière (compositie-opdracht De Link)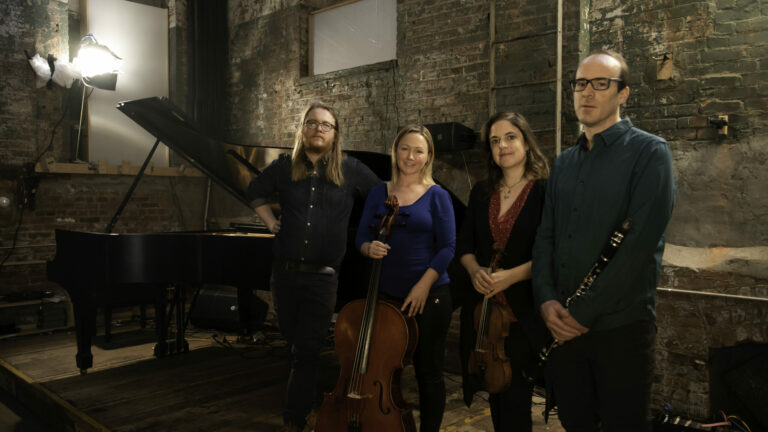 Dit nieuwe ensemble, dat pas in 2020 op werd gericht, bestaat uit leden die hun sporen in het circuit van New York al ruimschoots verdiend hebben. Zo speelden Ken Thomson (klarinet) en Ashley Bathgate (cello) jarenlang bij Bang On A Can All-Stars. We zijn dan ook verheugd het kwartet op diens eerste post-covid doortocht in Nederland naar Tilburg te halen, voor een gemêleerd concert inclusief wereldpremière.
Dat hagelnieuwe werk komt van de hand van de Iraans/Nederlandse componiste Aftab Darvishi, die eerder al het indrukwekkende strijkkwartet Daughters of Sol voor het Kronos Quartet schreef. Voor to…serenity (compositie-opdracht van De Link) liet ze zich inspireren door de sorna, een traditioneel Perzisch houtblaasinstrument dat vooral gebruikt wordt tijdens feestelijke ceremonies. De voortdurende cadans van zowel de klarinet als de overige instrumenten refereert zijdelings aan dit oosterse dansritueel.
We vervolgen met twee stukken van jonge componisten uit The Big Apple. Cassie Wieland woonde er nog maar pas toen ze het op ambient en post-minimal geënte to live in static voltooide; ze doet de ruis van de metropool glinsteren door te experimenteren met fragiele, imperfecte, maar bovenal menselijke klanken. Anna Webber begeeft zich in haar nieuwe, vinnige stuk Adjust op het kruispunt tussen avant-garde jazz en hedendaagse muziek. Het programma wordt gecompleteerd door Thomsons eigen Uneasy.