Price: €20,00 – student €10,00
Mirage: the dancing sun (2002) – Sofia Goebaidoelina
Vol de Nuit (2020) – Kinan Azmeh
Neiges (1998) – Kaia Saariaho
Two Mediterranean dances (1998) – Theo Loevendie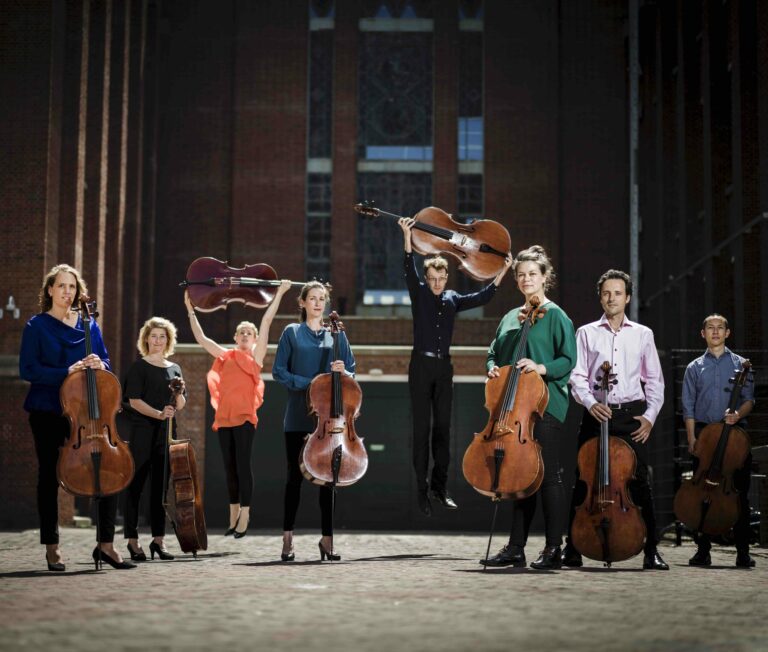 In het programma 'West of the Moon' gaat Cello Octet Amsterdam ver voorbij de donkere, melancholische klank die lage strijkers eigen is. De muziek wordt licht en dansbaar. In Mirage: the dancing sun creëert Sofia Goebaidoelina een sprankelend spel van dansend licht en schaduw, dat voelt als een fata morgana in onze dagelijkse geluidswaarneming. Neiges van Kaaija Saariaho bestaat uit glinsterende, kristalheldere texturen, geïnspireerd op de symmetrische patronen van ijsbloemen en sneeuw. Ook Theo Loevendie ging in zijn compositie op zoek naar een geluid van de cello dat sterk afwijkt van het gebruikelijke timbre. Hij vroeg de cellisten zelfs om "nergens echte cellotonen" te laten horen in zijn opzwepende, dansbare Zeybek en Ibérica – twee dansen uit ver uit elkaar liggende landen aan de Middellandse Zee; Spanje en Turkije.
Kinan Azmeh ervaart de overweldigende kracht van muziek tijdens nachtelijke, verre reizen, wanneer hij hoog boven de aarde vliegt. Vol de Nuit is een ode aan de artiesten naar wiens muziek hij luistert om zich ook in het voortdurend onderweg zijn, thuis te voelen. Een compositie waarin traditionele melodieën, percussie en improvisatie de ruimte krijgen.
Cello Octet Amsterdam is een avontuurlijk collectief van cellisten dat staat voor nieuwe muziek en interdisciplinaire voorstellingen.