Trio Napolov Fridman Sandee
Price: €15,00 – student €5,00
Wheatfield with crows (2020) – Martín Francisco Mayo
I want to feel alive (2021) – Molly Joyce
Aeons (2020) – Robin de Raaff
delen uit: The Book of Eva (2021) – Remy Alexander
Listen! (2022) – Klas Torstensson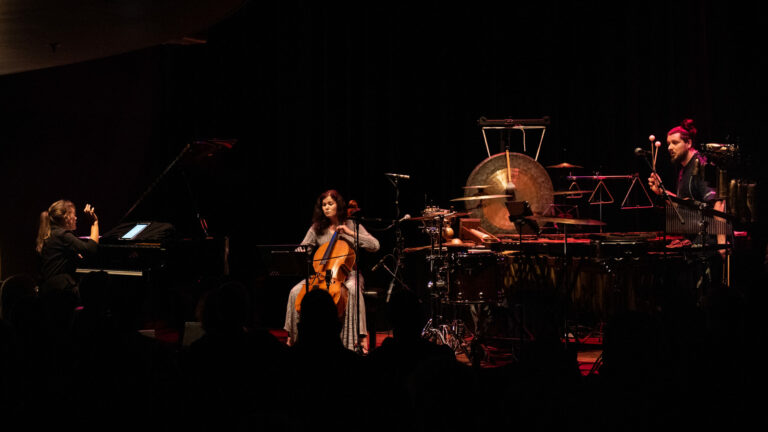 Het trio van slagwerker Konstantyn Napolov, celliste Maya Fridman en pianiste Laura Sandee brengt een programma dat deels geïnspireerd is door Vincent van Gogh. Remy Alexander liet kunstenaar Rob van den Broek een slagwerkinstrument bedenken, dat kan openvouwen alsof het een sinaasappel met partjes is. Napolov speelt hierop delen uit Alexanders The Book of Eva, vernoemd naar het instrument.
Molly Joyce, net als Alexander artist in residence geweest bij De Link, is in het turbulente innerlijk van Van Gogh gedoken. Robin de Raaff laat een van diens laatste schilderijen door de eeuwen naar een verre toekomst reizen, als een baken van menselijkheid. Martín Francisco Mayo werd geraakt door het schilderij 'Korenveld met kraaien' waarin hij een storm ziet naderen die nooit zal uitbarsten.
Klas Torstensson heeft zich laten inspireren door een andere kunstenaar, de Russische schrijver Vladimir Majakovski. Die nam in 1930 een gedicht op uit zijn jeugd. Torstensson samplede de opname en ploos die uit elkaar, compleet met de spetters van de oude grammofoonplaat, en bewerkte het resultaat voor het trio. Vervolgens zingt Maya Fridman teksten die Majakovski in zijn dagboek schreef over zijn geliefde Lili Brik. Zo schildert de muziek het beeld van een gespleten artiest.